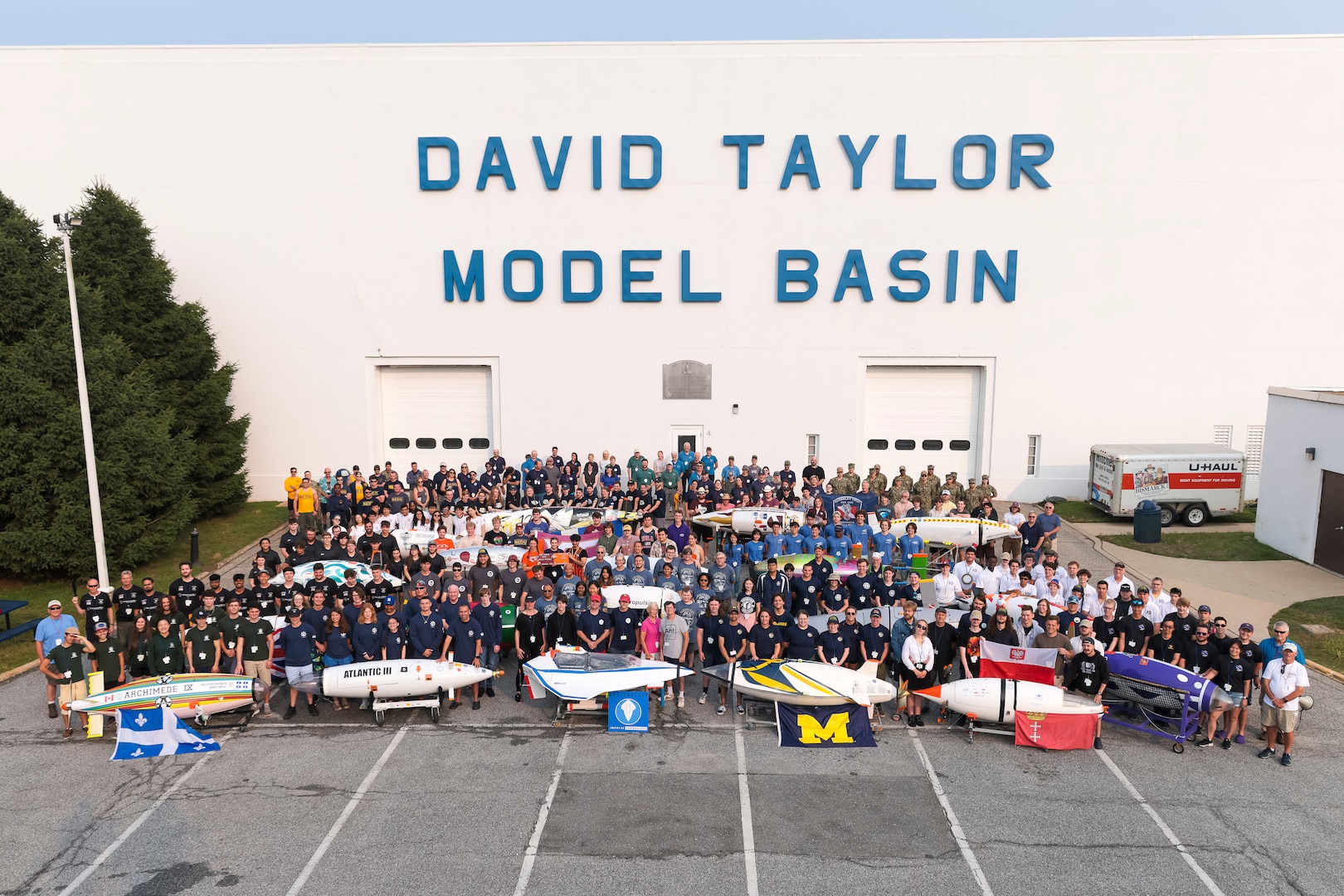 By Edvin Hernandez, NSWC Carderock Division Public Affairs
WEST BETHESDA, Md.  –  
Naval Surface Warfare Center, Carderock Division welcomed the return of the International Submarine Race (ISR) to its David Taylor Model Basin in West Bethesda, Maryland, June 26-30, for the first time since before the COVID-19 Pandemic.
Teams from across the United States, Poland, the United Kingdom and Canada arrived at Carderock with their eyes set on one mission: be the fastest human-powered submarine in the competition.
The biennial science, technology, engineering and mathematics (STEM) event allows students to display their talents and problem-solving capabilities in submarine and hull design challenges. All sorts of underwater submarine designs are showcased at the races. Take, for example, Quinn Barone. The 14-year-old Maryland native and his family traversed through the course in The Javelin, a sub shaped like a spaceship.
"The inspiration for this model came from the SR-71 black bird and things I have seen in movies," Barone said. "I was motivated to build this after reading '20,000 Leagues Under the Sea.' I built my model before knowing about the races – I initially was going to put an electric trolling motor on it and use it as a sports sub to run around Key West in Florida. We made at least one run and it felt like a miracle – it was really exciting."
For Quinn, reaching the races was a step in the right direction in learning what is required to be a naval engineer.
"In the future, I plan to go to a marine engineering school," he said. "I have a passion for this and I'm happy to be competing here. We were so close to completing the course a couple times but came short. It felt great to finally reach the finish line and see our work paying off."
Carderock, which is home to some of the most trusted technical experts within the Department of Defense (DoD), has recruited a portion of its employees from this event.
"Early on in my college degree path, I didn't quite know what I was going to do when I graduated," Carderock's STEM and Outreach Coordinator Charlotte George (Code 00T) said. "I spoke to my advisor and asked him what I could do to learn more about what a real engineer actually does. He suggested I work with the school's human-powered submarine club – so I did and joined the team four months before the races in 2009. I jumped into hull development, systems-of-systems development and learning how everything worked together. When I was here as a competitor, a Carderock employee showed me the facilities and what they do here, and I made the connection of how what I learned in class applies to real-world problems. So, I came back as a part of the Naval Research Enterprise Internship Program (NREIP) and eventually became a Carderock employee."
As one of the oldest DoD STEM competitions, ISR advances the opportunities students have with hands-on application in the world of naval engineering. Events like these expose aspiring engineers to careers with the U.S. Navy and DoD enterprise. Carderock internship programs like the Science Engineering Apprenticeship Program (SEAP) and the NREIP program – ONR sponsored programs – allow students to gain invaluable experience working at a federal research and development center. It also provides the Navy a sneak peek of its future generation of technical experts.
"This week we hosted several hundred high school and college students," Carderock's Commanding Officer Capt. Matthew Tardy said. "We provided them the opportunity to utilize our basin where we hope to inspire them to become the next generation of naval engineers and subject matter experts for the Navy. It's great to see their excitement, progress and achievements at this year's races."
While most of the teams received some kind of award, the Foundation of Underwater Research and Education President Charlie Behrle announced OMER 12 as the winner of the overall performance award of the ISR competition on Friday, June 30, inside the Maritime Technology Information Center, Building 40, with runner up going to Team Orca.
List of teams competing at IRS 17 and their submarine names are: 
Polytechnique Montreal – Archimede 9
Florida Atlantic University – Atlantic III
University of British Columbia – The Beagle
University of California San Diego – Calypso
Dover High School – Cormorant
Impulse Submarines – Javelin
Virginia Tech – Kraken
Virginia Tech – Nautilus
University of Warwick – Man of Warwick
Frederick County Career and Technology Center – Moby Dick
Sanborn Regional High School – Nautilus
Gdansk University of Technology – Nautilus 2
Ecole De Technologie Superieure – OMER 12
University of Washington – Orca
Kids into Discovering Science – Propulsion
University of Victoria – Sockeye
University of Michigan – Stingray
Texas A&M University – The Maroon Marauder
Sussex County Technical School – Umptysquatch X