Portsmouth Naval Shipyard —
In 1969, Portsmouth Naval Shipyard halted its production of submarines and began its journey as a maintenance facility. Advancements in technology were drastically changing what was possible in developing larger, more complex submarines. With the advent of these new, improved platforms came the dilemma of outdated infrastructure. The floor of Portsmouth's Dry Dock #1 was too shallow to dock the newer classes of submarines, effectively making PNS a two dry dock shipyard. In order to keep PNS functioning at maximum capacity, a plan for continuing to dock the newer classes of submarines was developed with the leadership of a Portsmouth Naval Shipyard engineer.
Gilbert Stevens began his career at Portsmouth Naval Shipyard in 1959, a year after graduating from the University of New Hampshire with a degree in civil engineering. The Stratham, N.H. native found a home in the engineering code responsible for launching submarines out of the buildingways. PNS is unique in its location on Seavey's island, and anticipating the rise and direction of the tides in the fast-flowing Piscataqua River is an engineering feat in itself. Launching a submarine into that river with an island in her direct path requires an immense amount of planning and forethought.
"In the old days, ballast tanks were tack-welded to the bow of the submarine to make sure it entered the river at the correct angle during a launching," said Stevens. "I worked with a team to determine the optimal tides by measuring high water marks in advance of the launch date." Stevens had worked on the preliminary design of the deep-diving research submarine USS Dolphin (AGSS 555) for a six-month stint in 1960, helping the design team engineer stability controls. His expertise led him to the position of lead engineer on the project to dock the Navy's current fleet of submarines in the outdated Dry Dock #1.
Buoyancy tanks were the answer to the problem. Mare Island Shipyard had successfully utilized the salvage tanks used to raise the wreck of USS Squalus (SS 192) to assist in docking USS Seawolf (SSN 575) in their shallow dry dock. Stevens took the lessons learned from that evolution to help develop a game plan for PNS. Through a combination of attaching a series of buoyancy tanks to the submarine and designing sliding side blocks to make room for the submarine entering dry dock, PNS was able to remain a three-dry-dock shipyard. His design has evolved slightly over the years to accommodate different classes of submarines, and 46 years after their initial use docking USS Sea Devil (SSN 664) in July, 1974, they will be retired. Stevens retired from PNS after 33 years of faithful service, so his buoyancy tanks ended up with 13 more years of service than him. Stevens' youngest daughter Sheila is an apprentice in the service pipe shop and witnessed her father's creations' final use with the undocking USS Santa Fe (SSN 763) on Dec. 14. Santa Fe was the 26th and final submarine to utilize the tanks to dock and undock in Dry Dock #1. When asked what his contribution meant to him, Stevens replied: "I'm just happy to know that something I put my heart and soul into has helped [the shipyard] for all these years."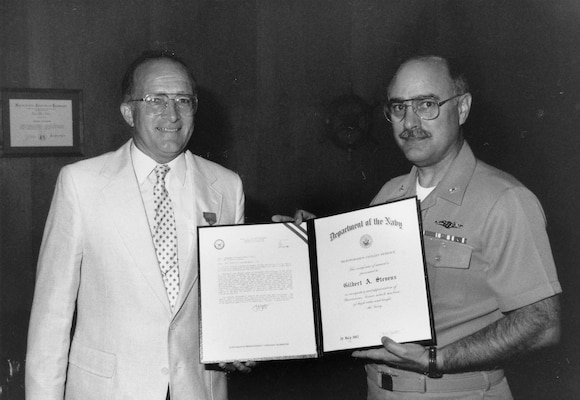 Shipyard Commander, Rear Adm. Lewis A. Felton presents Gilbert Stevens the Navy Meritorious Civilian Service Award for his contribution in developing the buoyancy tank system at PNS, July 20, 1992. (Photo by U.S. Navy)