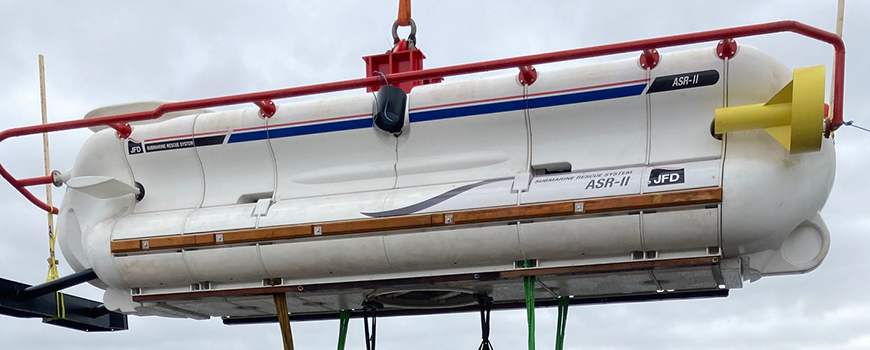 JFD, the world leading underwater capability provider serving the commercial and defence diving markets and part of James Fisher and Sons plc, has delivered a full-scale mock-up of its Search and Rescue Vehicle (SRV) for the Republic of Korea Navy (ROKN).
The mock-up is part of a multi-million-pound contract for the design and build of an advanced SRV, awarded to JFD by South Korean shipbuilder Daewoo Shipbuilding and Marine Engineering (DSME). It aims to ensure the highest standards in safety for submariners, confirming the capability of components ahead of the contract's completion.
DSME is currently constructing a new auxiliary submarine rescue ship for the Republic of Korea Navy. JFD's bespoke SRV, which is being designed and built according to a ROKN brief, forms a key part of this vessel and aims to enhance the operational capabilities of the Navy's submarine rescue service. The SRV is set for completion soon. Once in operation, the vehicle will be capable of rescuing the crew of distressed submarines at depths of up to hundreds of metres, and will be launched and recovered from the submarine rescue vessel via a moonpool.
The brief from ROKN has technical challenges that require innovative solutions. The JFD team are providing a full scale replica SRV mock-up to enable DSME to conduct factory acceptance tests (FATS) and harbour acceptance trials (HATS), of the innovative Launch and Recovery system onboard a new auxiliary submarine rescue ship, as well as familiarisation training for the LARS operators. This will ensure the compatibility of interfaces between the SRV and LARS ahead of integration onboard the vessel to ensure an efficient process.
Ensuring equipment compatibility when different elements are being delivered by a variety of providers is essential and highlights JFD's customer-focussed approach, expertise and dedication to safety. JFD is a key member of an integrated team working alongside DSME and ROKN to deliver a ship, LARS and SRV that work together in harmony. The company's previous experience of delivering numerous manned LARS and moonpool bell LARS brings added expertise to the project, helping to ensure the highest standards in safety for submariners.
Danny Gray, Managing Director, JFD, said:
"JFD first delivered the current Submarine Rescue Vehicle to the Republic of Korea Navy in 2008. Twelve years later, we are pleased to be providing additional capabilities which demonstrates our leading position in the submarine rescue market, as well as the strong relationships that we have built with our customers. The completion of the full scale mock-up is an important step in the delivery of this contract. It shows our experience, progressive approach to safety and our commitment to providing bespoke solutions for our customers – especially challenging amid the current unprecedented global impact of COVID-19, travel restrictions and social distancing.

"Following the delivery of the SRV next year, we will continue to work with the Republic of Korea Navy and its partners in providing a comprehensive training and support programme that will ensure that the submarine rescue operations are carried out safely and efficiently. Protecting the lives of submariners is of utmost importance to JFD, and ensuring our customers have the most advanced and comprehensive submarine rescue capability is fundamental to this. We are pleased we can provide innovative solutions to meet our customer's requirements and look forward to the SRV becoming operational next year."
JFD provides fast, safe and reliable subsea rescue services, solutions products, engineering services and training to 80 countries and 33 of the world's navies including the Royal Navy, Australian, Singapore, Indian and Republic of Korea Navies, as well as providing the NATO Submarine Rescue System.