by Petty Officer 2nd Class Cameron Stoner
NATO Allied Maritime Command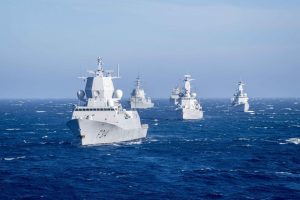 18 Allied nations participated in the NATO Maritime Command's exercise Dynamic Mariner 2019 off the coast of Spain Oct. 8 through Oct. 18.
The exercise brought together 32 surface ships, 2 submarines and 18 aircraft, and enabled participants to train together across all maritime warfare areas.
While NATO Maritime Command sponsored and evaluated the exercise, the Spanish Maritime Force Commander exercised operational control of all forces, acting as the Maritime Component Commander in a simulated NATO Response Force (NRF) operation.
"Dynamic Mariner was a tremendous effort for not only our staff, but also a huge effort for all of the ships involved," said Spanish navy Vice Adm. Antonio Lacave, commander, Spanish Maritime Forces.
The exercise enabled Allied forces, including Standing NATO Maritime Group One (SNMG1) and Standing NATO Maritime Group Two (SNMG2), to demonstrate their flexibility and capability to quickly integrate with each other and with various national forces in a complex Task Force operation that included amphibious operations, air defense, mine countermeasures operations, cyber defense, as well as surface and anti-submarine warfare.
"The strength of NATO is our ability to come together when needed, using common operating procedures and systems, and working as a composite force," said Canadian Navy Commodore Josée Kurtz, commander, SNMG2. "This is a powerful skill, and like all skills, it's necessary to practice it. NATO exercises like Dynamic Mariner offer the opportunity to do just that, and to hone our procedures further, which is extremely valuable for all of us, but especially for all of our junior sailors. It is impressive to integrate within a large multi-national force for the first time, and getting to see the procedures that you've been taught get put into practice, all while working with ships from different navies and backgrounds. It's truly inspiring."
Dynamic Mariner was split into two phases, the first phase of the exercise focused on anti-air, anti-surface and anti-submarine warfare exercises which were planned and scheduled to test the readiness of ships and sailors as they integrated into a larger task force. Following the completion of phase one, participants transited the Strait of Gibraltar and began a phase where forces split into 'friendly' and 'hostile' forces and simulated a realistic 'free play' scenario which escalated into a NATO Article 5 operation where Allied forces act in collective defense of one of the nations. NATO's Article 5 represents its fundamental role as a defensive alliance states that 'an attack on one is an attack on all'.
"With 18 Allied nations operating together, the commonality of NATO procedures was essential to enable us to immediately begin operating together safely and effectively." said U.S. Navy Rear Adm. Edward Cashman, commander, SNMG1. "Exercising command and control of a large force in multiple warfare areas is a complex task and must be practiced periodically," he continued. "Bringing forces from so many nations together so quickly demonstrates the inherent flexibility and interoperability of maritime forces. The ability to move from interoperability to full integration requires more than standard equipment and procedures; it requires practicing the person to person communications to make information and direction flow smoothly up, down, and across the force. Dynamic Mariner was an exceptional opportunity for doing this and the Spanish Maritime Force did an excellent job in coordinating the actions of all participating nations to ensure we are all ready when called upon."
NATO's Dynamic Mariner/Flotex 19 (DYMR/FL19) tested the NATO Response Force Maritime Component Commander and enhanced the flexibility and interoperability of Allied nations. DYMR/FL19 involved ships, submarines, aircraft and personnel from eighteen Allied nations operating together off the coast of Spain.
Allied nations which participated in the exercise were Albania, Bulgaria, Belgium, Canada, Denmark, France, Germany, Greece, Italy, Netherlands, Norway, Poland, Portugal, Romania, Spain, Turkey, United Kingdom and the United States.
SNMG1 is one of four standing maritime task groups composed of ships from various Allied countries. These task groups form the core maritime capabilities of NATO's Very High Readiness Joint Task Force (VJTF). They provide a continuous maritime capability to execute NATO missions across the spectrum of operations, demonstrate solidarity, and strengthen professional links among Allied naval forces.