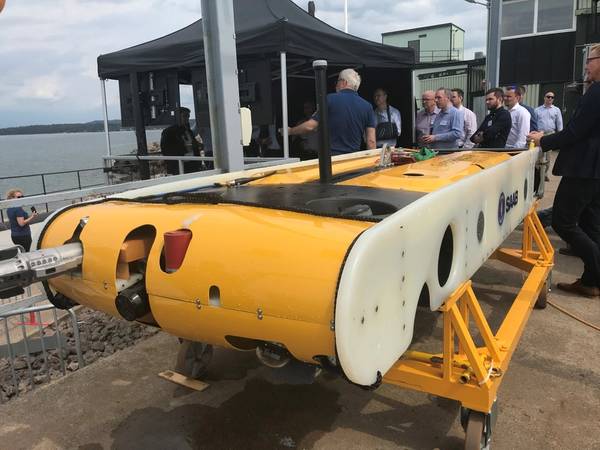 Saab Seaeye's Sabertooth during a demo with Equinor's subsea docking station (Photo: Saab Seaeye)
Sweden's Saab Seaeye has been one of those driving the vehicle side of the subsea resident vehicle equation – for at least 10 years.
The firm has some 50% of the world market of electric remote operated vehicles (ROV) and it has delivered more than 1,000 electric autonomous underwater vehicle (AUV) and ROV and hybrid vehicles. Earlier this year, during its eRobotics Spring Campaign, Saab Seaeye demonstrated its Sabertooth AUV's ability to dock in a safe and controlled manner at a remote sub-resident docking station, where it could access tooling packages, be recharged and transfer data, including new mission plans, using Blue Logic inductive connectors. It could do this automatically, without the need for human control.
In June, the firm performed docking, charging and communications on Equinor's SDS, in Lake Vattern, Sweden. While the final part of the docking during this exercise was via semi-automated controls, with a bit of programming the vehicle would be able to dock autonomously, says Jan Siesjö, Chief Engineer, at Saab Seaeye.
The firm has been working on this concept for more than 10 years, developing the 3,000-meter-rated Sabertooth's now advanced capability and control systems. The idea has since been supported by the likes of ENI, while parallel developments in inductive underwater charging and data transmission technology, and underwater video capable communications, and the development of standardized docking stations, have helped see the market start to catch up.
"It is the only hovering autonomous system that can operate in both AUV and ROV modes and handle connections in both the horizontal and vertical plane," says Peter Erkers, sales director at Saab Seaeye. "And it is the only vehicle currently on the market capable of undertaking long-term residency in difficult to access locations."
Saab Seaeye has also been working on other systems, such as remote operability of its light world class Leopard ROV. It's been working with Boeing doing trials over a satellite link across the US, controlling the ROV to do manipulator work, mating connectors, flying missions and way point control. Even when the latency was pushed to up to three seconds and data rates "messed with", the system still performed, says Siesjö.
Meanwhile, Saab Seaeye is also working on a full work class electrical manipulator. Testing work is ongoing with plans to reveal more to the market next year. The company has also been developing and trailing 3D simultaneous localisation and mapping technologies based on an in-stereo camera system developed in Saab some time ago.