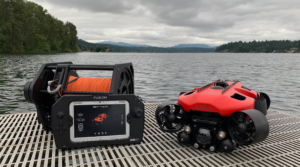 Strategic Robotic Systems (SRS) is pleased to announce the United States Navy has chosen to
procure the company's FUSION unmanned underwater vehicle to be their future explosive
ordnance disposal (EOD) remotely operated vehicle (ROV) with initial deliveries commencing in
the third quarter of 2019.
The SRS FUSION represents the next generation in expeditionary-capable, compact, remotely
operated underwater systems. As a fully battery powered system the FUSION has an ultracompact
footprint, rapid setup and extended excursion capability. Advanced supervisory control,
expandable payload bay and benchmark intuitiveness combine to enhance the warfighters field
readiness.
While primarily developed for this application, the capabilities of the FUSION vehicle make it
highly suitable for a variety of roles in both the defense and security arenas including very
shallow water (VSW), littoral mine counter measures (MCM), lost object search, hull survey,
damage assessment, and casualty recovery. Military and civil end users include special forces,
ship's husbandry units, Coastguard and salvage units.
Through an extensive characterization process conducted by the U.S. Navy, the FUSION
underwent a series of tests to determine its viability as a future system to aid in a variety of EOD
related missions. Tests included empirically led trials and reliability/maintenance assessment; all
at the hands of fleet operators that exercised the system against simulated missions. FUSION
was evaluated to verify its simplicity of deployment, ease of operation and mission execution
capabilities. The evaluation team comprised technical experts, field operators, trainers and EOD
specialists.
The specification, characterization and procurement process was facilitated through the
Defense Innovation Unit (DIU) which allowed SRS to openly communicate with the end user
throughout the process. This communication ensured the FUSION met the requirements set
forth by PMS-408 (Expeditionary Missions) and the fleet. Throughout the resultant five-year
contract SRS will be honored to support the U.S. Navy's warfighter and other Department of
Defense agencies.
SRS President Jesse Rodocker commented "FUSION is the culmination of many years spent
developing ROV's for military applications. Having been heavily involved in the design of the
U.S. Navy's previous underwater vehicle, it is a particular honor to see the next generation
adopted into service. Listening to the operators and working alongside them has helped SRS
understand the key requirements for effective EOD operations, and FUSION embodies all of
that important learning. We look forward to continuing to develop the capability as new
technologies become available and commit ourselves to the effective execution of this contract."
14842 NE 95th Street, Redmond, WA 98052 USA • Tel: +1.425.285.9229 • WWW.SRSFUSION.COM