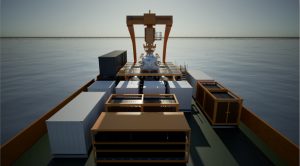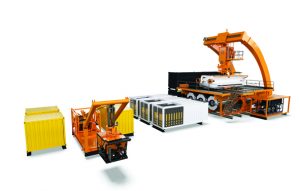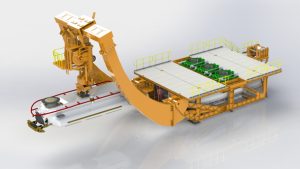 JFD, the world leading underwater capability provider serving the commercial and defence markets and part of James Fisher and Sons plc, is significantly progressing with the build of its new advanced state-of-the-art 3rd Generation submarine rescue systems (SRS), ready for delivery to its customer in 2018.
The 3rd Generation SRS has been developed by JFD to maximise the chances of successfully rescuing the crew of a distressed submarine (DISSUB) and is the culmination of over 30 years of rescue system operation and development, representing an optimum combination of capability and flexibility.
Ben Sharples, JFD Business Execution Director, commented:
"JFD was selected in 2016 to fulfil this contract for one of the world's leading navies. We have un-rivalled experience in this specialist field, having built the last two 2nd Generation submarine rescue systems; these new 3rd Generation systems will be the fourth systems in a row JFD will have designed and manufactured.
The safety of submariners across the world is paramount, and submarine rescue services and systems need to be world class in capability with the highest standards in safety and quality. Crucially they need to be on location on time to affect a rescue, it is this element which has been a key driver in the development of our 3rd Generation systems."
The current contract includes the design, build and supply of two complete 3rd Generation submarine rescue systems, which includes Deep Submergence and Rescue Vehicle (DSRV), Launch and Recovery System (LARS) equipment, Transfer Under Pressure (TUP) systems, and all logistics and support equipment required to operate the service, plus a 25-year all-inclusive in service support contract.
JFD is progressing the build and integration of these systems at its headquarters in Glasgow, Scotland.  Testing has been undertaken at its specialist facility, the National Hyperbaric Centre in Aberdeen, including pressurised testing on the pressure hulls and command module, part of the DSRVs.
The DSRVs will be undergoing factory acceptance tests at the end of November 2017, ready for integration trails in December 2017 and harbour acceptance tests in January 2018.
The 3rd Generation system training programme for the 72 personnel has commenced, on location at the Underwater Centre in Fort William, where JFD is familiarising the team with all aspects of submarine rescue from theory through to operation as part of a structured training programme, before beginning operational exercises on the new systems in 2018.
JFD has a strong ongoing commitment to safety, for the benefit of those people whose lives depend on its experience and expertise, and with each new generation of rescue system they strive to improve this.  The crucial factor in obtaining this goal is to ensure the speed with which the system can get to the site of a DISSUB.
The system incorporates a number of features which, in conjunction with the holistic, integrated approach to design, provide a genuine step change in capability. The solution is low risk and evolutionary in that it draws heavily on proven, in-service equipment and operator feedback. Whilst innovative in arrangement, the methodology is built on tried and tested approaches and hence it requires little shift in operating doctrine, existing procedures, training and crewing.
There are a number of key enhancements which have greatly reduced the deck footprint and weight of the system, ensuring quicker mobilisation.  The DSAR class SRV is capable of diving to new deeper depths with a crew of 3 and up to 17 rescuees, while the medical hyperbaric complex can treat and decompress up to 90 personnel at any one time.  The launch and recovery system has been designed to handle the SRV in conditions up to and including sea state 6, while a pair of self-contained generators are capable of providing a fully redundant electrical supply to the entire system.
The first of the two systems is to be shipped in March 2018 for final commissioning and trials, with full system due to complete in June 2018.