COPENHAGEN, Denmark (AP) — Rescue workers searched with a remote-controlled submarine Friday to try to locate a Russian helicopter with eight people on board that went down in the frigid seas off Svalbard, a Norwegian Arctic archipelago.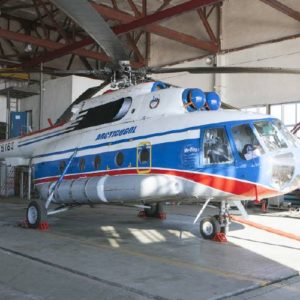 The Joint Rescue Coordination Centers for northern Norway said the search "has so far produced no results."
The search was focused near Cap Heer, 4 kilometers (2½ miles) north of the Barentsburg Heliport, where oil had been spotted on the water and a boat's sonar system had found an object 200 meters (660 feet) beneath the surface.
The Mi-8 helicopter went down Thursday near the settlement of Barentsburg. The aircraft was carrying five crew members and three staff members from Russia's Arctic and Antarctic Research Institute.
"(We are) doing everything we can to find the missing helicopter and those on board," archipelago governor Kjerstin Askholt said, noting that at this time of year it was dark on Svalbard for most of the day.
Russia was sending an Ilyushin II-76 plane, a heavy-lift freighter that operates well in poor conditions, but it was not clear what exactly the plane would do.
The rescue service, which reported scattered snow, winds of up to 50 kph (31 mph) and waves on up to 1.5 meters (5 feet) in the area, had accepted the offer of Russian assistance.
Russian authorities were also checking to see whether they had a submarine that could be used in the frigid waters to look for the wreck, the Norwegian rescue service said.
Svalbard is more than 800 kilometers (500 miles) north of Norway's mainland. It's known for stunning views of snow-covered mountains, fjords and glaciers.
The helicopter had been en route to Barentsburg, Svalbard's second-largest settlement, from the Russian settlement of Pyramiden — a largely abandoned mine that attracts some tourists on excursions to see the empty Soviet-era buildings.
Barentsburg is a Russian coal-mining town of about 500 people. Under a 1920 treaty, Norway has sovereignty over the archipelago but other signatory countries have rights to exploit its natural resources.