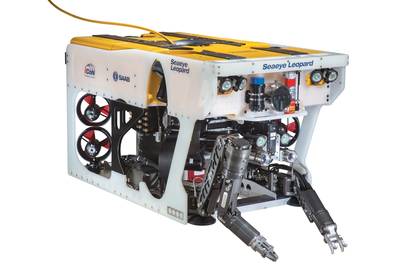 Israel's University of Haifa has ordered a Saab Seaeye Leopard electric remotely operated vehicle (ROV).
The University says that having no other technological platform like it in Israel, the Leopard will be a key resource for a new deep-sea research center which opened recently.
The purchase was enabled thanks to the generous support of The Leona M. and Harry B. Helmsley Charitable Trust to the University of Haifa. The ROV will serve the entire marine research community in Israel through the national consortium of universities, colleges and government research institutes called the Mediterranean-Sea Research Center of Israel (MERCI).
The 3,000 meter-rated Leopard will make the consortium the first entity in Israel to offer such a resource to anyone looking to work in both shallow and deep water.
The focus will be on scientific study, education and research including environmental monitoring, marine archaeology and other types of marine research, said Ben Herzberg, Chief Engineer from The Helmsley Charitable Trust Mediterranean Sea Research Center, Leon H. Charney School of Marine Sciences at the University of Haifa.
He also sees it being of interest to operators in Israel's relatively new oil and gas sector, along with other collaborative projects.
In choosing the Leopard, Ben Herzberg said they evaluated a range of ROVs from different manufacturers. "We opted for the Leopard, not just because of its technological excellence and Saab Seaeye being the largest manufacturer of electric ROVs in the world, but also because universities and scientific users we contacted gave Saab Seaeye the best and most positive feedback."
He added, "They had a more trusted reputation for robust and reliable systems, compared with other ROV manufacturers, and they offered the best service."
For the University of Haifa, the Leopard's 11-strong thruster power and iCON intelligent control architecture allows them to handle a variety of systems of heavy and variable loads by providing flight stability, including pitch and roll stabilization, even whilst working in strong cross-currents and also gives them precise maneuverability inside complex structures.
To offer the University of Haifa a variety of user options, the Leopard's iCON building-block capability and large open payload bay with sliding trays for rapid reconfiguration and easy maintenance, allows more interchangeable tooling and survey sensors to be fitted than ever before possible in a vehicle of its size.
As iCON independently manages each intelligent device on the vehicle, including auto redundancy, it will help keep the ROV working, even with multiple equipment damage.
The operator also has greater information through iCON, making maintenance simpler and providing remote internet access for upgrades and support.