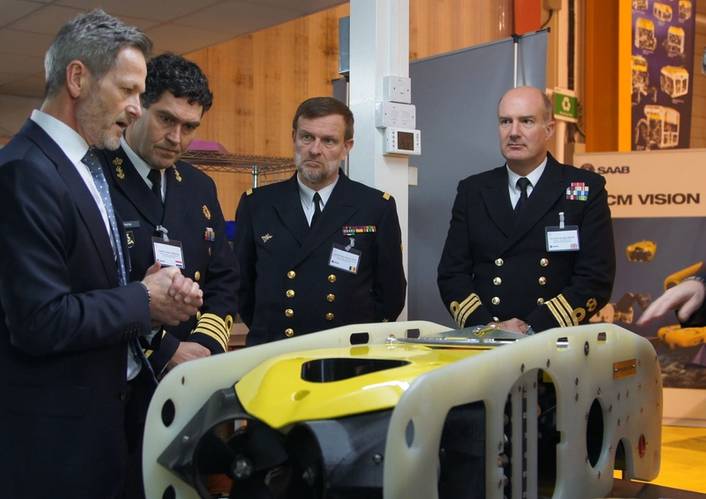 With threats from underwater mines and waterborne improvised explosive devices (IEDs) ever present, an international group of defense and civilian specialists in mine countermeasures visited Saab Seaeye's U.K. facility.
The group, that included the Deputy Director of The NATO Underwater Research Centre, saw a range of existing and newly developed underwater robotic vehicles used in searching for, disarming and neutralizing mines and waterborne IEDs.
The robotic vehicles are designed to work remotely to reduce the risk towards mine disposal personnel at sea and in waterways.
"It was an opportunity for specialists in the field to share the company's vision for mine countermeasures and the challenging aspects of maritime defense," said Agneta Kammeby, Head of Saab Underwater Systems.
The visitors saw the highly specialized technology needed for these vehicles to perform in difficult environmental conditions and strong sea currents.
The range of vehicles on view included the Sea Wasp, designed for disposal of underwater IEDs; MuMNS, a multi-shot mine neutralization system; the AUV 62 MR, a mine reconnaissance AUV; SAROV, a mine-countermeasure AUV/ROV; and the Leopard – the world's most powerful compact electric work ROV. These leading solutions have been created by combining technology from both, Saab Seaeye's commercial and defense underwater systems.