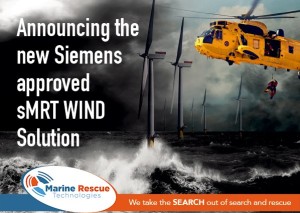 The sMRT Wind Solution is at the forefront of Man Overboard safety equipment.
The new Siemens approved sMRT Wind Solution incorporates the worlds leading AIS personal locator beacon, the sMRT AU10 and the sMRT 275N SOLAS twin chamber PFD.
Workers in the offshore wind sector are subject to extensive boat and platform transfers, exposing a significant MOB risk. Using a combination of the latest technologies that conform to new International Safety Standards, the new sMRT Wind Solution gives workers the best chance of survival should a Man Overboard incident occure.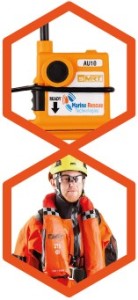 "This combination provides crew members and
technicians with state of the art Man Overboard
life saving equipment and marks a significant
safety advancement in the Offshore Wind Industry."
The SOLAS approved 275N life jacket and sMRT AU10 automatically activate as soon as they hit
the water. Integrated at manufacturer level, the sMRT AU10 sends a distress alert and position via 121.5MHz and allows you to be tracked with pin point accuracy via AIS.
Contact one of our dedicated account managers for more information on our limited Trade In Discount
Marine Rescue Technologies
Telephone: +44 (0)1482 679300
Email: [email protected]
Web: www.mrtsos.com