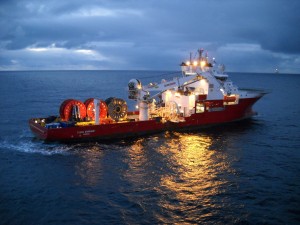 Fugro has secured a contract for the installation and burial of 122 array cables at the Rampion Offshore Wind Farm being built in the English Channel, 13 kilometres off the Sussex coast, by E.ON alongside partners, the UK Green Investment Bank plc.
The engineering and planning will start immediately with installation being carried out in two phases in 2016 and 2017. Fugro will lay and bury the cables with its construction and installation vessels Fugro Symphony and Fugro Saltire using one of its two Q1400 trenching systems to bury the cables. The array cables will be pulled in and laid between the wind turbines and the offshore substation, where the power is then transmitted onshore.
"The award of this contract has strengthened Fugro's successful working relationship with E.ON and comes soon after finishing cable-lay and burial on E.ON's recently completed Humber Gateway Wind Farm," said Derek Cruickshank, Managing Director, Fugro Subsea Services Ltd. "Subsea installation and trenching systems are amongst Fugro Subsea's specialist services and our focus on offshore energy is supported by a team of highly experienced onshore and offshore personnel."
The Rampion Offshore Wind Farm will consist of 116 turbines, each with a generating capacity of 3.45 MW. Construction is expected to be completed in 2018.
Picture: The Fugro Symphony cable-lay vessel
For more information:
Elaine Morison
Marketing Coordinator, Fugro Subsea Services Limited
t: +44 (0)1224 257519
[email protected]
www.fugro.com
David Allen
Practical PR
Tel: +44 (0)207 100 3499
[email protected]
Victoria Blake
Senior PR Officer, E.ON UK
t: +44 (0)24 7618 1304
[email protected]
www.eon-uk.com
ABOUT FUGRO
Fugro creates value by acquiring and interpreting earth and engineering data and providing associated consulting services to support clients with their design and construction of infrastructure and buildings. Fugro also supports clients with the installation, repair and maintenance of their subsea infrastructure.
Fugro works around the globe, predominantly in energy and infrastructure markets offshore and onshore employing approximately 13,000 employees in over seventy countries. In 2014 Fugro's revenue amounted to EUR 2.6 billion; Fugro is listed on Euronext Amsterdam.
Fugro Subsea Services Ltd (FSSL) is a part of Fugro's overall Subsea Services business line and specialises in providing ROV support vessels, ROVs, Subsea Construction and installation along with trenching systems and remote engineering services to its clients in the North Sea, Mediterranean and West Africa.
FSSL is located in Aberdeen, UK and comprises a large office, warehouse and engineering workshop, which provides maintenance of the company's ROV systems as well as carrying out in-house testing and assembly of FSSL's own tooling and equipment. The onshore team of 149 personnel provides round the clock project and engineering support for offshore operations.
As part of the Fugro Group, FSSL has direct access to the worldwide fleet of over 51 Fugro vessels and 159 ROVs, ROTVs and AUVs.