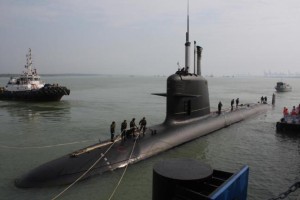 PARIS, April 26 (UPI) — The first DCNS Scorpene-class submarine being built for the Indian Navy has been rolled out of its main building hall for outfitting with its systems.
The INS Kalvari was built in the Indian city of Mumbai by state-owned Mazagon Docks under a $3 billion contract between India and DCNS that included a technology transfer agreement.A total of six Scorpene-class submarines are to be built in India for the country's P75 submarine program."DCNS won the order for six Scorpene submarines, based on technology transfer and local construction, from the Indian shipyard Mazagon Dock Limited in 2005," said Alain Pugnière, director of the India Scorpene program at DCNS. "The first submarine should be delivered in 2016; the others will follow at a rate of one every nine months."
The Scorpene is a diesel-electric attack submarine. Its length is between 202 feet and 246 feet depending on variant, while displacement is between 1,725 tons and 2,200 tons. Submerged speed is 20 knots, while surface speed is 12 knots.
Sea trials for INS Kalvari are scheduled for 2016.