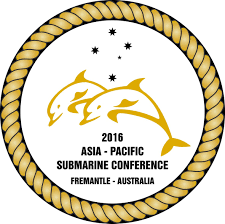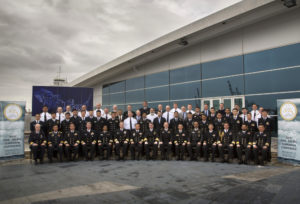 Asia Pacific Submarine Conference 2016 (APSC) official group photograph
The 16th APSC was held in the Western Australian Maritime Museum (WAMM), Fremantle, Western Australia 19–-21 September 2016.
APSC is a regional submarine engagement activity with a primary focus on co-operation in support of submarine escape and rescue that was established by the United States Navy, through Commander, Submarine Force, U.S. Pacific Fleet (COMSUBPAC), in 2001 in the wake of the 2000 Kursk disaster.
APSC is an UNCLAS annual forum and is hosted annually on a rotational basis by select submarine capable nations in the Asia-Pacific region with previous host nations including the United States, Japan, Republic of Korea, Malaysia, Singapore and Australia. Australia last hosted APSC in 2004 also in Fremantle, W.A.
APSC 16 was chaired by Director General Submarines Commodore Peter Scott CSC, RAN and the conference was formally opened by Head Navy Capability Rear Admiral Jonathon Mead AM, RAN.
INDUSTRY RECEPTION/EXHIBITION
In support of
ASIA PACIFIC SUBMARINE CONFERENCE (APSC) 2016
FREMANTLE, W. AUSTRALIA
Thanks to the following Companies for making this a memorable event:
AMITS – Advanced Marine Innovation Technology Subsea
ANALOX – Military Systems (Gas Monitoring and more)
BriarTek Incorporated – ORCA Lifesaving Equipment
Hale Hamilton Valves – Pressure and flow control
JFD – Marine Services Worldwide
Marine Rescue Technology – Personal Location Beacons
Molecular Products – Clean Air Solutions
Phoenix International – Underwater Operations
SMD – Remote Intervention Equipment Manufacturers
Sonistics – Through water Communications and survival on the surface
Texcon – Submarine Emergency Escape System (SEES)
 Contact Sam Hopkins for full information
FOR PHOTO GALLERY CLICK HERE ASIA PACIFIC 2016 Industry Reception